With the first snow fallen, many folks are switching gears, getting ready to slide on snow and slice the ice...which is great, but that doesn't mean that the bouldering season is over in Montana...in many zones in the Eastern Boulder Batholith, the temperatures are just getting good.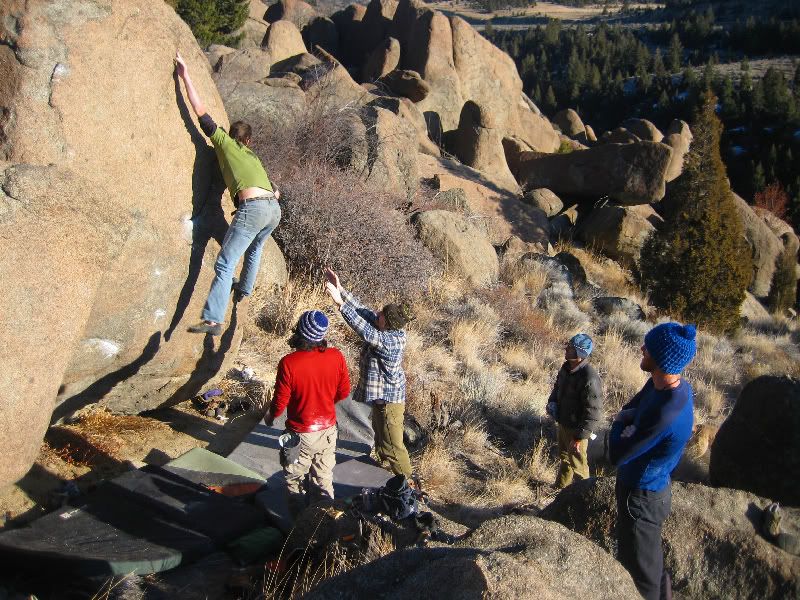 Last season was a bit tough on weather...the El Nino weather patterns pushed the systems in from the south rather than the west...this made the snow levels higher than I have seen in the last 4 winters out there.
To get a decent idea of the weather, I usually look at a couple sources.
-I check the weather conditions in WHITEHALL, not Butte.
-If I am unsure the current snow levels, I sometimes like to call the Town Pump there and see what the weather is doing.
-The MDOT Homestake Pass Cam....which has been ripped out now twice in the last year...it was nice to be able to loop the imagery and get an idea of up top, but most of the time it just looks cold up there, which is can be...it's 1300' higher in elevation than the Desert...but the weather station up top is still active, and able to give you an idea of what the temps and precipitation has been like.
here's a quick overview:
When you go to the "
Homestake Webcam
" link in the right sidebar you arrive at this page:
Click the "Atmospheric History" link on the bottom left
This page gives you current conditions for the top of the pass, though I find the graph is an easier way to look back at the last couple days
Click the "Surface History Graph" link
This is the 48 hour history that I just generated...got up to 50 on top today. The green indicated recorded precipitation.
Today's weather in Whitehall:
The outlook for Whitehall:
Looks like it should be a good one...Planning on heading out for Saturday would be a good choice, but I wouldn't rule out Sunday...
Whatever it is you choose to do though, enjoy. Fill your cup and drink up life.
Cheers,
Tom