The urge to climb rocks is growing within me again. After a winter of early starts, going skiing on Friday just didn't pull me as much as usual. So after several shots of espresso and some phone calls a new game plan was configured. TKing was persuaded to skip out of work at noon, I bought some new shoes, we gathered Peter Ramos, and met up at Tom's place.
We decided on the Iso Boulders, an area I had never visited north of the Delmoe Lake Road. Tom promised some glorious stone and he wasn't lying. Two of these boulders offer up some of the most concentrated "hard" bouldering in the Batholith, and they're not for the faint of heart.
Ramos on what is now "Whiplashed" V4/5
(all grades are subjective)
I worked on this a bit after this photo and took a nice fall from the top due to a broken foothold. The ensuing fall resulted in tweaked neck and shoulder that wasn't helped by the chilly temps.
Hutch's post from this area covers the rest of the day just fine so I digress to Saturday.
Luckily for me, Zana is a massage therapist with a knack for knowing how to fix my oft broken body. The next morning I was feeling decent enough when Sam called and threw his stoke to climb at me. So we loaded up the Blue Streak and met-up with Whit, Kim, and Eli for some more Iso-age. In the 'lith we hooked-up with Apple and Ambrose and the crew was set.
Uncle Sam and lil' Eli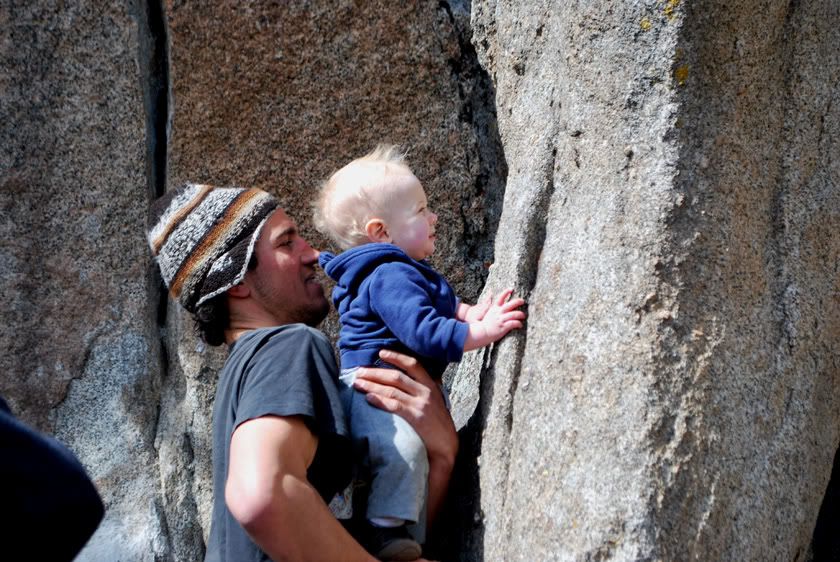 We all worked on "Whiplashed" for some time and I got it followed quickly by Whit. Some good solid cranking gets you to a slabby roll-over that will get you thinking. The left exit variation still awaits.
Sam sussin' out "Whiplashed"
I climbed this upwards 3 times and down-climbed it at least 5 times. I love Slab! This is also the best descent from this boulder (or you can hump a tree on the backside), goes at 5.10.
Soul Slab 5.10
Granite is what its all about!!!
We spent a lot of time working on an arete/face looker's right of Whiplashed. Casey, Sam, and myself all sent. Oh, and Whit sent the problem (direct to the top) to the right followed by me and some others.
Iso Arete #1 V4ish
Whit and fam' left too early, but not after Whit got totally stoked on bouldering and vowed to be back for more. He even said he was going to sell his ice-tools to get a bigger pad (that's sarcasm for all ye' humorless folks out there).
The rest of us built a nice fire and worked on Tom's proj. This thing is hard. Nobody got any further then the chalk. Here's Sam gathering his mojo for another push.
I managed a quick ascent of the arete to slab above the spinal separator and behind Sam (
No Sense V3)
. Nobody followed.
Fire, Beer and Puppies V1
A good couple of days out amongst the stones. I spent all of Sunday laying around immobile whilst whining and complaining to Zana about my neck and our lack of pain medicine other then vitamin I.
I am getting the stoke on for sure and also pysched that more people are beginning to open their eyes to the Batholith's delights. Tom Kev, and I will be working diligently the next couple of months on the Bourbons guide due out sometime this summer.